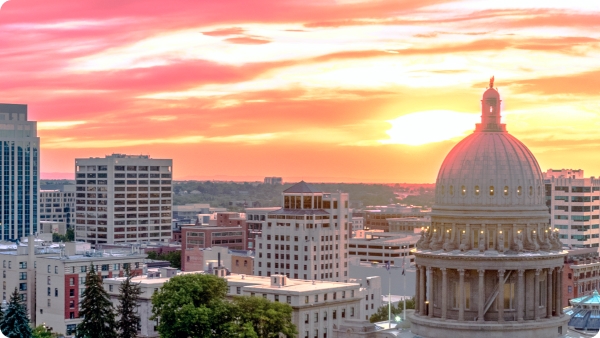 Idaho Commercial Banking
WaFd Bank offers a seasoned team of Idaho Commercial Bankers who can help with your real estate project and business success. In the last 12 months the Idaho team has financed more than $350-million in commercial loans for Idaho clients. In each transaction we practice the WaFd Bank core value of simply being nice. We look forward to continuing to grow with Idaho businesses and real estate investors.
Meet our Idaho Commercial Team
Reid Wiggins
Commercial Division Manager
With more than 20 years commercial banking experience, Reid has expertise helping finance businesses in nearly all industries. This includes real estate projects, business purchases, working capital and equipment financing. As the Idaho Commercial Division Manager, Reid partners with the commercial banking team to provide customized lending and account solutions.
Bryan is a veteran of the commercial banking industry with over 25 years of lending experience. His primary area of expertise and focus is investor-owned commercial real estate lending, including multi-family housing, office, retail, and industrial projects, as well as homebuilder lines of credit. As a 4th generation Idahoan, Bryan has a passion for all that Idaho has to offer and a desire to see it flourish.
Expertise: Commercial Construction, Homebuilder Lines of Credit
Matt has worked in the banking industry since 2005, recently joining WaFd Bank to focus on large commercial real estate transactions and business financing. Matt strives to help his clients reach their financial goals with purchase and development of multifamily, industrial and office projects. Matt is an Idaho outdoor enthusiast, Leadership Boise alum, and active support of his daughter's gymnastics meets.
Expertise: Commercial Real Estate Financing, Business Lending
Justin has spent the better part of the last 20 years as a lender, currently focusing on the financing both commercial real estate and homebuilders in the Treasure Valley. He prides himself on being a trusted advisor to his clients and out of the box thinker, always willing to discuss a project and look for solutions. When not working, Justin enjoys spending time with his family hunting, fishing, camping, traveling and coaching baseball.
Expertise: Commercial Real Estate Financing, Homebuilder Lines of Credit
Marcie is a Boise native who joined WaFd bank in 2015. Her primary focus is helping small businesses with their lending needs. She enjoys working with multifamily transactions and helping businesses achieve their CRE goals. Marcie is an active member of Commercial Real Estate Women (CREW) and enjoys spending time with her family.
Expertise: Small Business Lending
Maria focuses on building relationships with businesses to understand and assess their unique needs and provides solutions that streamline cash flow, mitigate risk and fraud, and optimize liquidity. She works closely with the Commercial Relationship Managers to provide clients with a comprehensive team approach to meet every need. Maria has been in the banking industry for 18 years and has spent the past 10 years in Treasury Management.
Expertise: Treasury Management Services and Commercial & Municipal Deposits