Connect Your Quicken® Account
Quickly link your Quicken financial management tool to your WaFd banking account
Now, WaFd Bank offers Quicken Connect, allowing you to access your WaFd Bank transactions from within Quicken.
View balances, enter and edit transaction, and capture receipts on mobile and web.

Sign up for email and text alerts to notify you of low balances, unusual spending, and more.
No need to manually enter transactions, saving time and money.

Forecast your cash flow.

Create and follow a budget.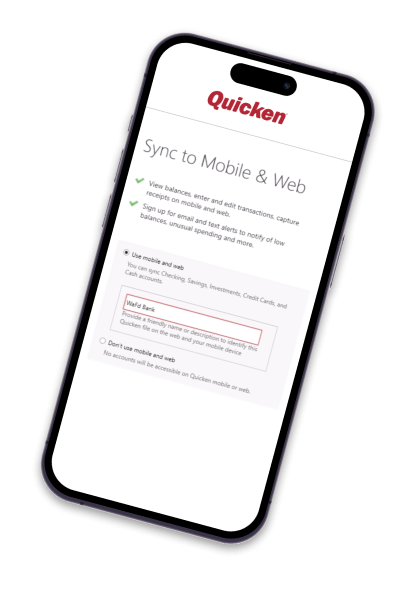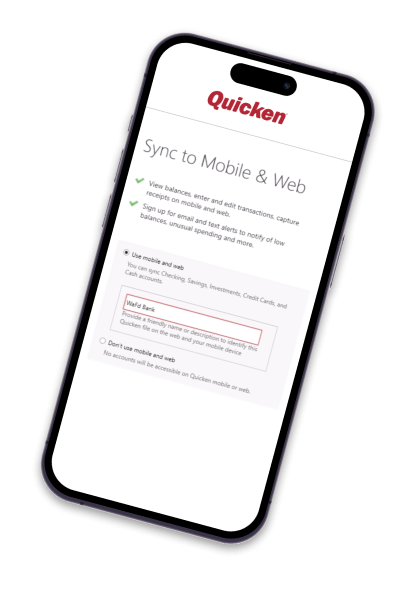 To setup Quicken, please follow the instructions below:
Please fill out the following Quicken Access Form.
Upon receipt of your request, it will take 2-3 business days for us to set up your access. A WaFd Banker will send you an email confirming your account has been set up.
Once you receive your email confirmation, it's time to finish connecting your WaFd account to Quicken.
Open Quicken and go through the process for adding a new account.
Enter a friendly name to the account, something like "WaFd Bank – Checking."
Under Search for your financial institution, Select "WaFd Bank – Treasury."
Enter the User ID and password for your account.
Now enter the Company ID provided to you in the email from WaFd Bank and hit Next (don't worry if this is not for a company).
Select which accounts you want to sync to Quicken and hit Next.

Congrats! Select Finish.
If you are experiencing issues with Quicken—for example, you're receiving error codes, or you are unable to download transactions—we recommend that you deactivate and reactivate your accounts. This step typically resolves most issues when attempting to synchronize your accounts. It will also be helpful to have your online banking open as a cross-reference while you perform this step.