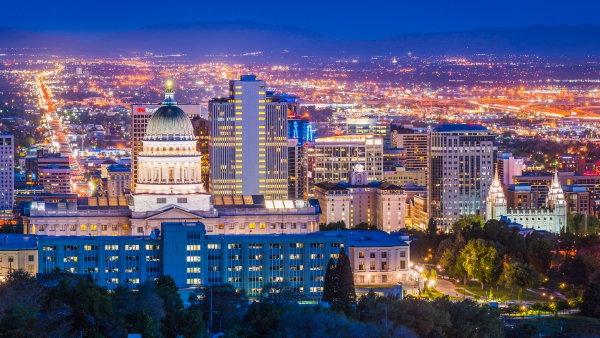 Utah Commercial Banking
If you have commercial needs, our Utah Commercial Banking team can help. Here in Utah, we strive to live by a phrase coined by our CEO, "Love what you do, and make a difference". We provide financing of all sizes for any type of project, including real estate development (such as multi-family and industrial), business acquisition, equipment financing, working capital, and more. Over the years, we are excited to say we have provided over $1 billion in commercial lending for Utah clients. With unmatched personal service and over 200 years of combined experience, our team has the expertise and know how to serve as your trusted partner. We look forward to continuing to help grow businesses right here in the Beehive State.
Meet our Utah Commercial Team
Luke is inspired by helping entrepreneurs do what they do best! He believes in helping businesses thrive by finding a shared vision and creating value add moments over time. This is done through work with small to medium businesses by lowering overhead, increasing cash flow, and leveraging business equity. Luke tailors business needs and helps with business deposits, payroll, merchant services, treasury management, and his favorite business, commercial, and multi-family lending. Luke has over 10 years of banking experience and holds a Bachelor of Business Administration in Management from the University of Alaska Anchorage.
With nearly 17 years experience, Kade has a robust working knowledge of the banking and finance industry having held positions in retail, small business, and private banking much of which was spent in management. Kade's primary area of expertise is in Professional Practice lending, High Net Worth lending, investment fund lending, and owner occupied real estate lending. Kade feels one of his greatest strengths is being an outside the box thinker in finding lending solutions for his clients. Kade prides himself in being a skillful handyman and is a University of Utah alumni. When he isn't working, he enjoys spending time with his family, completing DYI projects, rock crawling, and attending sporting events.
Andrew's biggest motivator in banking is his passion for learning about businesses and the owners who have built them. With over 10 years of small business banking and commercial lending experience, coupled with a Marketing degree from USU, Andrew takes pride in building trust and lasting relationships with his clients. He strives to provide them with the best support and tools that will help his clients businesses grow. Andrew's focus is on commercial and industrial lending products including owner occupied real estate, equipment financing, operating lines of credit and commercial purchasing card programs, along with a myriad of other banking and treasury management products. Andrew is a sports junkie and spends his off time coaching basketball. Most of all he loves supporting his spouse and children every chance he gets.
Dane is a dedicated banking professional with substantial experience in expanding clientele relationships and finding credit and cash management solutions that fit the unique needs of each customer/business. He has built his career on providing detailed information and resources to individuals in an effort to stimulate growth, both financially and professionally. Dane has strived to demonstrate resourcefulness, consciousness, and an ability to solve problems in order to meet the needs of his clients for over 17 years. He is a proud graduate of the University of Utah (BA in accounting) and Westminster College (MBA). Away from work, Dane spends as much time with his family as possible.
Rhett helps businesses and organizations leverage technology to streamline cash flow, conducting deep dives into clients' business objectives and models to improve their ability to monitor, manage, and protect their financial transactions. With over 15 years of treasury management experience, Rhett enjoys taking the wide range of treasury services WaFd Bank offers and tailoring these to meet the specific needs of individual companies. In addition, he keeps clients apprised of the latest technological innovations and enhancements treasury services offer. A veteran Army helicopter pilot, Rhett enjoys spending time with his family. He received his BA and MBA from Utah State University.